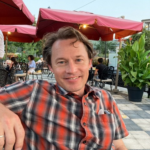 By Michael Moyer, Director, of Wine & Viticulture at Lake Michigan College
The unique characteristics of southwest Michigan's climate and soil allow for the production of world class wines, to rival those of better known wine regions of Europe. Lake Michigan College's Director of Wine and Viticulture Michael Moyer will discuss quality viticulture in southwest Michigan and highlight the opportunities and challenges facing the Michigan wine industry.
Michael Moyer is the Director of the Wine and Viticulture program at Lake Michigan College. The 2022 harvest marked his 23rd vintage, and 8th in the state of Michigan. Michael holds a Master of Science in Viticulture and Enology from the University of California, Davis. He comes to Michigan most recently from Walla Walla, Washington where he made wine for 12 years including 7 years as Enologist and Winemaking Instructor at Walla Walla Community College. Early wine industry experience was gained in Amador, Napa, and Sonoma counties in California, as well as the Willamette Valley in Oregon. Michael is currently the Secretary for the Lake Michigan Shore Wine Trail and chair of the Michigan Wine Collaborative's Research and Education Committee. Along with his wife and four children, he has two dogs, two cats, five ducks, 21 chickens, and one pigeon.