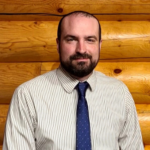 By Peter Cook
On the morning of February 21, 1925, two Millburg State Bank employees prepared for what they thought would be a routine Saturday. However, their first customers were anything but ordinary. Dressed in trench coats, a group of armed men forced the tellers into the back closet and looted the bank. While the robbery only lasted a few minutes, the subsequent car chase, manhunt, and trial would long be remembered as one of Southwest Michigan's most dramatic crimes of the 1920s.
Peter Cook, the Director of Programs & Outreach at the North Berrien Historical Museum in Coloma, will present the Great Millburg Bank Robbery and its aftermath in all its exciting detail. Peter holds a bachelor's degree in Public History from Western Michigan University and has been working at the museum since 2018.
NOTE: 1:00pm On Zoom shown at the Scott Club. Or, join via Zoom from wherever you are located. Email info@scottclub.org for a Zoom link.